A little Paradise Island in the middle of the Red Sea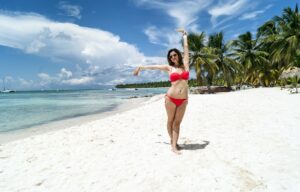 Ever look at pictures in holiday magazines and dream of being on that stunning white sand beach with crystal clear waters? Well, now is your chance with a trip to Paradise Island from Hurghada.
The program details
We start daily around 9:00 AM. Our transfer service will pick you up from your hotel to the harbor.
In around 30 minutes, we sail the yacht towards Paradise Island. At the same time, you will enjoy a 360 sea view picnic in the middle of the Red Sea. There will be a stop at a nice snorkeling spot for a swimming or snorkeling opportunity in the free open sea. Followed by a mini adventurous activity of Banana and Sofa Water Rides
After this stop, we continue to sail toward Paradise Island, where the beach's golden sands await you. You are free to explore the island; you can swim for 2 hours and take beautiful pictures, soaking up the sun and taking in the breathtaking scenery along the way.
The Paradise Island Restaurant is located directly on the beach, and we offer you an open buffet lunch with diverse options, including freshly prepared seafood.
Our guides and representatives are always available for you throughout your day, Don't miss the chance to visit Paradise Island in Hurghada. It's a fantastic place and experience.
The Visit to Paradise Island in Hurghada ends around 4:00 PM. We sail back to the harbor, where our transfer will drive you back to your hotel.
---
Trips & recommendations:
Don't forget your sunblock, towels, and camera!
The Trip to Paradise Island Included:
The necessary snorkeling equipment.
Water, soft drinks.
Transfer from the hotel to Paradise and back.
Pick up from hotels outside Hurghada (i.e., in Makadi Bay, El Gouna, etc.) requires additional transfer fees.
Follow the steps below to complete the booking form.