Summary of Luxor day trips from Hurghada:
We're offering you unforgettable Luxor day trips from Hurghada. You can choose the best option for yourself. Don't miss the chance to see ancient Egypt.
#1 One day trip to Luxor visit Valley of the Queens: 70$
Visiting Temple of Karnak
Visiting Colossi of Memnon
Visiting Valley of the Queens
Visiting Temple of Queen Hatshepsut
#2 One day trip to Luxor visit Valley of the Kings: 75$
Visiting Temple of Karnak
Visiting Colossi of Memnon
Visiting Valley of the Kings
Visiting Temple of Queen Hatshepsut
#3 Two days Luxor Program from Hurghada: 150$
Staying 1-night in a four* hotel
Visiting Temple of Karnak
Visiting Colossi of Memnon
Visiting Valley of the Queens
Visiting Temple of Queen Hatshepsut
Hot Air Balloon
Visiting Medinet Habu
Visiting Banana Island
---
Why visit Luxor when in Hurghada
Just imagine stepping inside the heart of a living historical miracle and having a chance to touch the gods of this majestic city, where wishes, hopes, and dreams surrendered the holy city of Luxor.
We have designed different Luxor day trips for Hurghada visitors that suit all desires, covering the most important historical sites.
The world's most incredible open-air museum
Luxor, aka Thebes as in the history books, is an influential city in Egypt's history. Now it attracts thousands of visitors worldwide to explore the greatness of the remaining architecture; it was the capital of ancient Egypt thousands of years ago.
Temple of Karnak
A must in all our Luxor day trips from Hurghada, it's one of the most extraordinary temples worldwide, as, after thousands of years, it is still in an excellent state. With a bit of imagination, you will find yourself quickly back in the past of this impressive sacral monument.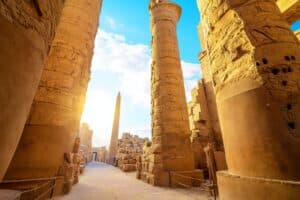 Valley of the Kings
This valley was used for primary burials from approximately 1539 BC to 1075 BC. It contains at least 63 tombs, beginning with Thutmose I and ending with Ramesses X or XI, non-royal burials continued in usurped tombs.
Valley of the Queens
Where the ancient Egyptians buried their queens with their sons, visit three tombs where you'll see the well-preserved colorful paintings and hieroglyphic stories on the walls. If you are eager to understand what's written on that walls, you can learn hieroglyphics or ask the guide.
Colossi of Memnon
Admire the 3,400 years old Colossi of Memnon, the gigantic statues of Pharaoh Amenhotep III that were once standing guard in front of his no longer existing memorial temple complex that had been even larger than the Temple of Karnak.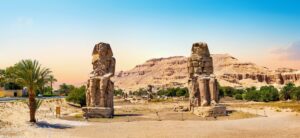 The Temple of Hatshepsut
Hatshepsut, the queen who became Pharaoh (c.1473–1458 BC), built a magnificent temple on the west bank of Luxor. It lies directly across the Nile from Karnak Temple, the main sanctuary of the god Amun.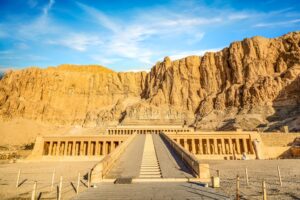 With our Luxor day trip from Hurghada, you will get inside the city of ancient Egyptian architecture and culture.
Other things to do when you visit Luxor
Fly in a hot air balloon over Luxor
Just before sunrise, we take you where you can use a lifetime opportunity and have a fantastic view over Luxor's temples, fields, and the river Nile.
Banana Island
Banana Island is only reachable by a felucca in the Nile river. On the Island, you enjoy eating bio bananas you pick directly from the trees.
Medinet Habu
Explore Medinet Habu with the great mortuary temple of Ramses III with colossal statues showing him as the ancient Egyptian God Osiris, well-preserved architecture and walls, and more than 7,000 m2 of decorated and inscribed wall reliefs.
---
Useful recommendation for Luxor travelers
What to consider
Cotton clothes in summer and a light jacket for windy days.
Hat, sunblock & sunglasses
Warm clothes in winter
Comfortable shoes for wandering
Camera
All our day tours include:
Transfer from your hotel to Luxor and back.
Tour Guide & entrance fees to all the mentioned sites.
Drinks & lunch meal during the day trip.
All city service charges and taxes.
Proceed to book your preferred option to visit Luxor by completing the form below.