The complete guide to Snorkeling in Egypt in 2021
This is the ultimate guide for traveler to learn about all aspects related to snorkeling in Egypt in 2021.
Statuesque colonies of stony corals and soft corals intermixed with schools of Anthiinae – as far as the eye could see
Why snorkel in Egypt
Rich with healthy colorful coral reef. Makes it one of the top visited places for snorkeling and diving all year.
Enter street adress here. Or any other information you want.
Coral Reefs Species in the Red Sea
Diversity of marine life is full with colonies of stony corals and soft corals that mesmerize the eye.
Stoney corals
Table Acropora
Fire Corals (Millepora)
Montipora
Soft corals
Pulsating Xenid
Alcyonacea (Sea Fan)
Red Sea Fish Species
The perfect weather conditions makes the Red Sea the ideal place for the marine life to flourish.
Red Sea anemonefish (clownfish)
native lionfish
Moray eel
Minnows (glassfish)
Angelfish
Bottlenose dolphin (Tursiops truncatus),
Purple Tang
Redtoothed triggerfish
Stingray
cowfish
Humphead wrasse (Cheilinus undulatus/ napoleon wrasse)
Blue-green chromis
Scorpionfishes
Short-nosed unicornfish
Learn more about the Red Sea Fish Species
Snorkeling Benefits & Risks
Benefits
Snorkeling is a fun way to merge with the nature and explore the underwater world. It has a lot of benefits for body and mind.
Connects you with nature Snorkeling allows you to see some of the most vibrant species on the planet. Very similar to walking in a forest full of diverse species – but under the water.
Improves breathing Snorkelers efficiently engage in a breathing exercise by regulating in and out breaths evenly through the mouth. It boosts your maximum oxygen uptake, which is an excellent sign of aerobic fitness.
Overall fitness Snorkeling, whether with fins or without, is a total-body workout. Your muscles are forced to push against the natural resistance of the water with every movement. That is also very good for better mood
Cardiovascular health Snorkeling is beneficial to your cardiovascular system (cardiovascular fitness) it helps your heart pumps harder and stronger as your heart rate rises during snorkeling.
Joint mobility Snorkeling, like other water-based activity, has the extra benefit of delivering beneficial exercise to those who suffer from joint discomfort
Mental health According to the Mayo Clinic, exercise, such as snorkeling, can help relieve tension and anxiety. It helps your body to generates endorphins, which make you feel better and boost your self-esteem.
Risks
As with everything, there is always risk associated when encountering nature. Likely local regulations and known rules help us understand the prevent some of the risks associated with snorkeling
Your swimming skills Snorkeling requires swimming – good swimming skills – to move and roam around the snorkeling and coral reef areas. Using a life jacket is necessary for non-swimmer to go snorkeling.
Your fitness health Understanding and ensuring your cardiovascular health is optimal for long period of swimming it important for your snorkeling experience.
Use the right equipment Having the right equipment (and knowing how to use them) is an important factor in your overall snorkeling experience. Face masks, fins and UV protective suite can prevent accidental sun-burns and help you utilize your energy efficiently during your experience.
Check our recommendations on snorkeling gears.
Touching the marine life Touching corals, fishes, dolphins, or anything under water can be very dangerous. Most of the fishes won't like it and they would try to protect themselves. It's prohibited by the law to touch the marine life in the Red Sea.
Its strictly recommended to follow the guidance by your local snorkeling instructor to avoid being at risk.
Red Sea Snorkeling Regulations
The diversity and beauty of the Red Sea corals is a sign of its good health. Thus, it important to establish rules and regulations to protect it from bad behaviors and misuse.
Green Fins Initiative
The Green Fins is an initiative started by the United Nations Environmental Program in collaboration with the Reef-World Foundation, a U.K-based charity and managed locally in Egypt by the Chamber of Diving & Water Sports. In collaboration with Ministry of Environment (MOE),
Egyptian Environmental Affairs Agency (EEAA), Ministry of Tourism and Antiquities.
The management approach of Green Fins seeks to assist operators decrease their negative impact on the marine environment by implementing simple and workable environmentally friendly procedures, educating staff how to be more environmentally friendly role models and passing on the information to their guests.
Learn more: https://greenfins.net/countries/egypt/
Learn more: https://www.cdws.travel/info/environment/green-fins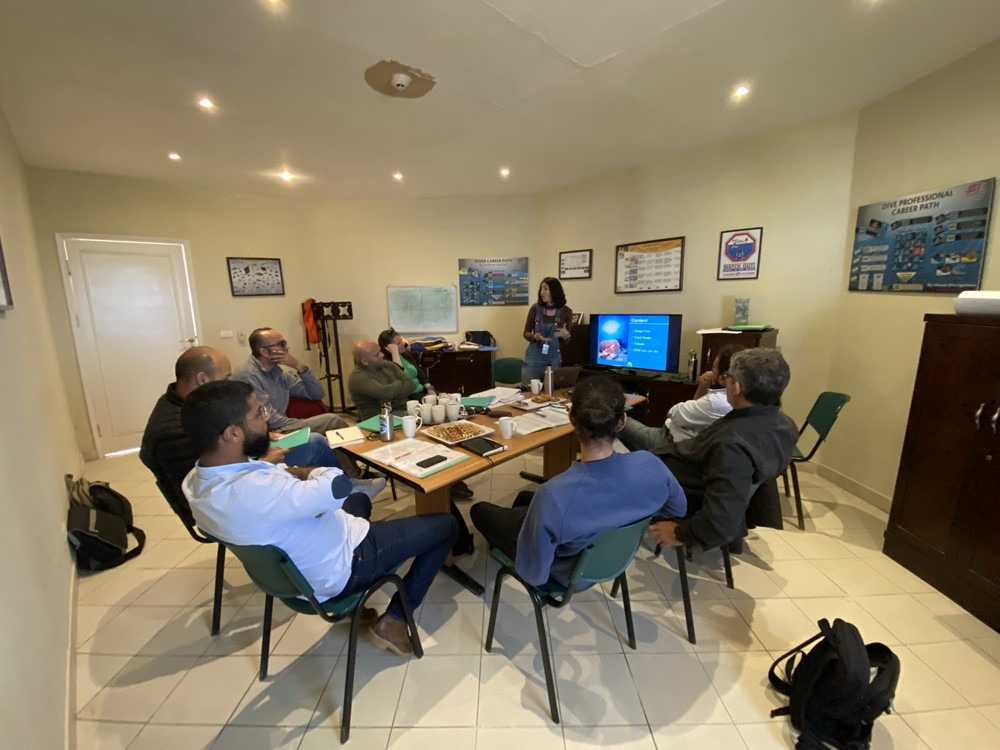 The Red Sea snorkeling activities are protected and regulated by CDWS: Chamber of Diving & Water Sports, by Egypt's Ministry of Tourism.
Night Snorkeling in Hurghada
Its prohibited to do Night snorkeling, all snorkeling boats returns to shore by sunset. If you are staying in a snorkeling hotel – check with your beach security and always ensure your safety.
Snorkeling Gears & Equipment
Here is everything you need to know about snorkeling equipment.
Snorkeling Masks
The snorkeling mask is a viewing face-wearable device, which when worn on the face allows you to view the underwater world clearly. Without it, everything viewed under the water would be a blur and would hurt your eye. There are two types of snorkeling masks:
Full Face Snorkeling Mask
If you're planning to snorkel only on the surface, then a Full-Face snorkel mask is a great option for you. It provides you with comfortable and a more natural way of breathing by using your nose and mouth.
Traditional Mask & Snorkel
There is nothing better than using the good old gear, it comes with different sizes that fits all faces shapes.
Snorkeling Fins
You need fins for snorkeling for your comfort and safety, they allow you to swim efficiently without overexerting yourself. They help you exert more force on the water with each kick and allow you to move faster
Snorkeling Clothes
Its perfectly normal to snorkel with your regular swimsuit. However, if you would like to maximize your protection against potential sunburns, its recommended to wear a UV protection snorkeling suit.
In the Red Sea tropical warm water, Hurghada's water temperature range between 22 and 29 degrees Celsius – thick snorkeling suit is not necessary.
Sun Protection During Snorkeling
During snorkeling you're exposed to the sun for long periods of time. Wearing an appropriate sunscreen can prevent you from having serious sunburns.
We recommend that everyone use sunscreen with sun protection factor (SPF) of 30 or higher.
Snorkeling & Underwater Photography
Taking underwater stunning photos require good camera and camera protection equipment.
Modern advanced camera like Go Pro is highly recommended for underwater photo and videography, it comes with highest protection gears against water and sand and there are lots of mount and accessories for various activities.
Snorkeling Activities in Egypt
Explore all snorkeling activity in Egypt and book with Red Sea Reisen