The Dolphin Show
The fur seals Smelaya and Agate, the walrus Leela, the sea lion Dimas, and the dolphins Sabrina and Gerasim will live in your mind forever!
The dolphinarium's treasures include some of the brightest and most dazzling specimens. The dolphins' remarkable abilities to sketch, sing, and dance will thrill you. They never fail to delight the enthusiastic audience with an abundance of emotions, joy, and good fortune.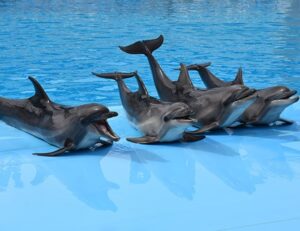 The Black Sea dolphins Sabrina & Gena & Fiona
The highlight of the show is the performance by the world's best stars? the Black Sea dolphins Sabrina, Gena, Fiona, and Gerasim. They represent one of the brightest brilliants from the dolphinarium's treasures. You will be delighted with the dolphins? incredible ability to draw, sing and dance. Sabrina and Gerasim always gift the ecstatic audience with streams of emotions, splashes of happiness, and leaps of luck.
Dimas
Our hot Chili alpha-male, the the13-year-old South American sea lion Dimas is sure to astonish you with his physical education. Dimas adores beach volleyball and surfing. He is capable to act very quickly in case anybody sinks.
Leela
The 2-year-old walrus Leela, the youngest actress of the dolphinarium, will not leave either children or adults indifferent. Leela is a wonderful vocalist, she can play various musical instruments and dance like a goddess. She is fond of playing with her spectators and even propounding riddles to them!
Smelaya & Agate
The fur seals Smelaya and Agate will make you laugh and amaze everybody with their moving affection. They will impress you with their acrobatic abilities. Moreover, Smelaya and Agate have the gift of turning the most boring set of exercises into a real celebration.
The performance lasts approximately an hour and features dolphins, seals, and sea lions doing different activities.
Swim with the dolphins
There is an option to swim with the dolphin for five or ten minutes. To be decided in the options while booking.
---
After the performance, you will be returned to your hotel. It's possible you may want to get a picture taken with the animals. The additional cost is stated at the venue.
Due to safety concerns, the attendants are not permitted to take photos with the sea lion.
Visitors are also permitted to take a photograph with their own camera or a printed copy of the photograph.
You will be picked up from your hotel and transported to the venue via bus.
Transfers from hotels outside of Hurghada (e.g., El Gouna, Makadi Bay) will include an additional charge.